More about the Hug...
Since September 11, fear and terror has escalated across the globe. The increase in violence globally can be felt from the nuclear precipice in Kashmir where millions face annihilation, to our schoolyards where children imitate their government leaders (see peace lessons for schools).
A refugee steamroller is fanning out across the globe of hundreds of millions of unwanted, war-torn, destitute families whose only crime was to be born.
It is time for us to stop watching the unfolding of this macabre tragedy and raise our hearts and voices for peace. Violence does not bring peace at home, in our schools or on the streets, why should we believe that it will bring peace between nations.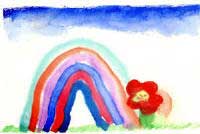 At a time when mothers and fathers are reaching for their children, loved ones are holding each other a little more purposefully and most of us are walking around with knots in our stomachs – we want to share this concern with the global community.

In solidarity with the suffering of the world after September 11's shocking events and escalating "war on terror", we want to demonstrate that the people of Australia are united in feeling the pain of victims of violence everywhere. We are calling for a peaceful resolution to the crisis.

On September 11, 2002, people of all races and religions (see statement) came together for peace at Wollongong Lighthouse . After some words of hope and inspiration from the guest speakers, participants formed a giant circle and made their statement for peace. Globally hundreds of thousands of people 'virtually' hugged for peace, from community groups in America to schools in Tanzania. This was just one step towards building a community totally committed to peace. The movement continues.

Now is not the time for more violence or hate or anger. There is an opportunity here to fundamentally change the way our society behaves. 140 million people died in wars in the last century and surely every one of them, given the chance, would speak of the futility of aggression and war. Tell us how you feel on our poetry page and through the pledge-a-hug petition.
We are not completely blameless for this situation, after all it was the west that has trained the accused Osama Bin Laden, and the insensitive policies pursued by the west that awoke their rebellion. Let us all see and treat each other as human beings in the one family with the love and respect we deserve.

The media can play its part too, by balancing the violence with voices of peace. We have heard what the military are doing, is it not now time to hear from our world's peacemakers? Can we not hear the opinions of our greatest humanitarians such as Nelson Mandela, the Pope, the Dalai Lama?

It is hoped that in the city that is now known as the 'City of Champions' that it will willingly hold aloft the mantle of the world champion huggers for peace. We believe to heal the knot in our stomachs, we all must grieve and empathise with those families that have directly lost, and learn the lessons humanity has been struggling with for thousands of years, to live in tolerance and peace (see comments from celebrities).